Degree: Associate in Applied Science
HEGIS Code: 5213
Curriculum Code: 1969.HIT
Campus Location: North
Health Sciences Division
Pre-Admission Recommendations: Biology, Math II, Keyboarding, Computer Skills, 80% H.S. Average
Recommended High School Courses and/or Experiences: Computer Skills, Math II
Career Opportunities/Further Education: Hospitals, Long Term Care Facilities, Mental Health Facilities, Rehab. Facilities, Ambulatory Health Care Centers, HMOs, other Health Care Facilities, third-party payers and other health data organizations.
Program Description
The purpose of the Health Information Technology Program is to prepare individuals for employment as health information technicians. Graduates of this program will be prepared for positions in the health information/medical record departments of healthcare institutions such as hospitals, nursing homes, health maintenance organizations, physician offices, insurance companies and a variety of other healthcare institutions. Graduates will be prepared in organizing, analyzing and technically evaluating health data/information according to established standards. Compilation of statistics, medical coding of information, abstracting health information data and legal aspects of health information will be covered.
The academic content will include a core of liberal arts chosen from the areas of anatomy and physiology, social sciences, humanities, computer science, and English. The remainder of the curriculum is designed to build technical and computer skills necessary for the Health Information Technician. Computer laboratories and web-based activities will also be used for medical coding, statistical analysis, clinical database management, maintenance and retrieval of patient health data and the emerging electronic health record (EHR). During the course of study, students will participate in a professional practice experience which will provide training and experience in a healthcare setting.
Accreditation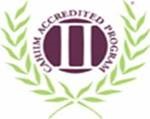 The Associate of Applied Science degree in Health Information Technology is nationally accredited by the Commission on Accreditation of Health Informatics and Information Education (CAHIIM). Graduates of the Health Information Technology program are eligible to write the National Qualifying Examination for certification as a Registered Health Information Technician (RHIT).
Licensure Compliance Statement
SUNY Erie Community College Health Information Technology meets the educational requirements by the Board of Regents in New York State to award an Associate in Applied Science Degree (AAS) with a major in Health Information Technology.  Graduates are eligible to sit for the national Licensure examination (RHIT) through the American Health Information Management Association.  
Department Notes
Cost of books, supplies, background checks, toxicology tests, transportation to professional practice sites, meals, parking, other costs related to Professional Practice Experience (PPE) and the physical examination/immunizations prior to the PPE are the responsibility of the HIT student. Other costs may be incurred. 
Admission/Program Requirements and Prerequisites 
Applicants must have at least a high school diploma or HSE (High School Equivalency).
Applicants should have high school biology and two units of mathematics. Computer and keyboarding skills are highly recommended.
Applicants should have at least 80 percent high school average.
Individuals who have not had biology in high school must take Survey of Anatomy BI 147 prior to taking the Anatomy and Physiology I & II  BI 150/151 BI 152/153. 
The SUNY Erie English pretests must be passed, college English transferred from another college or developmental courses successfully completed before matriculation into the Health Information Technology Program.
Individuals must complete MT 006 or pass the college placement test prior to matriculation into the Health Information Technology curriculum.
Any Health Information, anatomy, or computer courses completed more than fives years prior to admission or re-admission to the HIT program will not be accepted. These courses must be retaken and a grade of C or better must be earned. 
Students must maintain a "C" or better in all required Health Information Technology courses, Anatomy & Physiology I and II lecture and lab and Medical Terminology I & II.  A C- is not a passing grade for these courses. A second failure in a repeated course (a grade below a "C" in any MR, BI or MA  required course) or a second withdrawal (W) from these courses will result in dismissal from the Health Information Technology program.
A physical examination and current immunization report are required prior to the start of the Professional Practice Experience (MR 252).
Students must meet all departmental and college requirements for graduation.
Individuals must complete keyboarding (OF 101, OF 102 or OF 112) or pass a proficiency examination to meet the requirement.
Students are required to complete Computer Literacy (CS 101)  or transfer it in from another accredited college or university.
Medical Terminology II (MA 125) is a program prerequisite which must be taken before the start of the spring semester of the second year. 
Program Competencies
Upon graduation with an Associate in Applied Science degree in Health Information Technology, the graduate will be able to:
apply existing policies for organizing, planning, collecting, processing, controlling, and evaluating health information services;
evaluate health records to determine if they meet institution needs;
maintain automated incomplete record control systems and systems for retrieval of all other health information;
apply, and follow existing policies for retrieval and retention of health information;
develop, apply and evaluate policies and procedures for health information, services, and functions;
apply and follow existing policies for the control, use, and release of health information;
follow procedures to maintain confidentiality and security of health information including computerized information;
follow existing procedures for abstracting and reporting health information as required by legal, accrediting, licensing, and certifying regulations;
apply coding rules to diagnoses and procedures;
sequence diagnoses and procedures to ethically and accurately optimize reimbursement;
organize and display data for research projects, special studies, and educational programs; and
follow procedures to maintain the security of computerized information, and conduct oneself in a professional and ethical manner by adhering to the AHIMA Code of Ethics.
Program Outcomes
The following HIT program outcome measures are for the academic year 2016-2017:
Employment Rate - 83%
Graduate Satisfaction Rate - 100%
Employer Satisfaction Rate - 100%
Curriculum
Total Degree Credits: 63.0